| The Escher Man | Paintings Request Man | Preview Rugs Man | Bay Window Woman |
I found this beautiful window seat at Hidden Treasures and I knew I had to have more. So I made some more objects! The wall is from Hidden Treasures, I forgot where the floor's from, and the Bay Window Woman is wearing a dress from the Well Dressed Sim. Also, the two paintings can be found at SimFreaks. (Bay Window Woman's head is in the heads section.) You can see a larger image if you click on the thumbnail.

| Bed | Chair | End Table | Light |
You have to go to Hidden Treasures for the window seat. Fabulous, isn't it?
Update: A very kind friend of mine made some beautiful walls & floors to match everything. Not that there's anything wrong with the wall at Hidden Treasures, but this gives you another option. Click on the pictures of the walls and floors to download.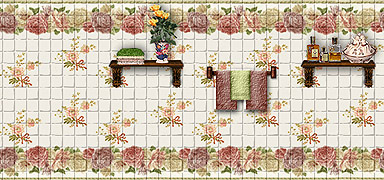 Bathroom Walls&Floors (Matching Bathroom set forthcoming)


Bedroom Walls&Floors

For examples of bed and bath with the new walls&floors, click on these thumbnails

|

Skins | Heads | Rooms | Miscellaneous |