House Dragon | House Unicorn | House Phoenix | House Griffin |
| House Pegasus | House Chimera | The Golden Angel |

| Part 1 | Part 2 | Part 3 | Part 4 |
Riordan hummed a note softly, watching the fire crackle and spark. Tristan sat next to him, clutching a mug of warm beer in his hands. He drank a sip, and coughed. "How long have you been carrying this around, Riordan? It tastes terrible."
"Hmm . . . three, four weeks now," his friend replied, chuckling. "We stopped noticing a long while ago. It didnít taste as bad as we smelled." Tristan wrinkled his nose as if remarking upon his friendís odor for the first time.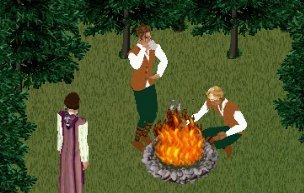 "Good point," he muttered, and slid further away. He sniffed at the beer again, then upended the mug. The sound of liquid splashing on the ground caught Islwynís attention. The young man glanced over towards the duo by the fire.
"Such a waste of good beer, Tristan." Islwyn sat down beside the two. "Hey, how goes your conquest of the Lady Isolde?"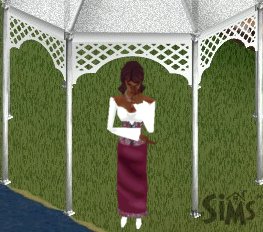 Tristan frowned. "That is not a joking matter, Islwyn." He sighed. "But not well, friend, not well. Her betrothed, the Lord Owen, returns from Simmandy within a fortnight. She said that when he is back, she wonít allow me to come near the House anymore." He tore up a clump of grass and began shredding it into the fire angrily.

"Glad Iíve never been in love," Islwyn murmured softly. Ruminating on that thought for a moment, he was reminded of something, and looked into the forest for his brother.

On to

Simulnation Chapter 5, House Pegasus : | Part 1 | Part 2 | Part 3 | Part 4 |

House Dragon | House Unicorn | House Phoenix | House Griffin |
| House Pegasus | House Chimera | The Golden Angel |